The team that laughs together, grows together.
Virtual, Hybrid, or In Person, we harness the power and joy of improv and theatre to strengthen teams made up of happier people and higher performers.
All of our fun and meaningful improv workshops are…
Customized to your team's needs, goals, and core values
Designed for introverts and extraverts alike
Led by professional actors and comedians
Built to continue beyond the session, with techniques you can use in your work
Why Improv?
We do our best work together.
Improv is all about improving team engagement, cohesion and productivity. We emphasize things like…
Group ownership over ideas and execution
Setting each other up for success
Open communication and creative collaboration
Invest in happier people and higher performers.
Improv at work is not only hilariously fun, but also sharpens skills. We're here to…
Fuel the workday with focus and energy
Unlock creativity and confidence at work
Level up public speaking and presentation skills
Build real connections, fight isolation, and think on your feet… from the comfort of your chair!

Our Virtual Improv workshops are designed to…
Break the ice with games built for video conferencing
Recapture the human connection of working in-office
Sharpen on-camera communication skills through acting techniques and exercises
Explore tools and tricks of the platform in an incredibly fun and creative way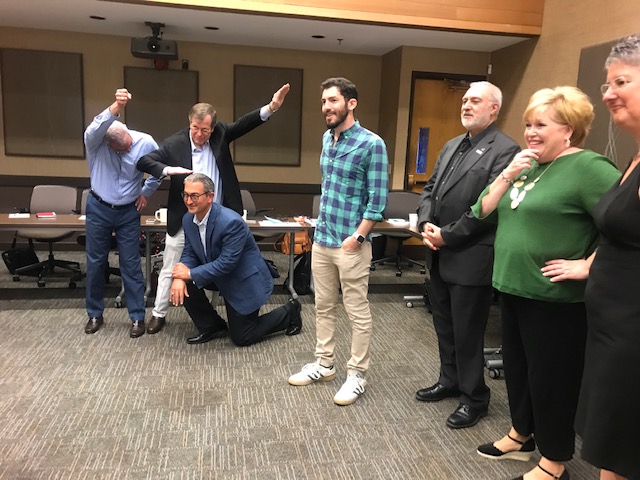 Going back to the office can be a bit… weird. Improv can help!
Our In-Person Improv workshops are designed to…
Improve the transition back to the office

Add meaningful value (and fun) to an onsite
Sharpen presence and public speaking skills
Adhere to all health & safety measures in place, and take any extra steps to ensure comfort
Every Hybrid team is different.
Still, we love a challenge! Please contact us to discuss your situation and, if it's a good fit, we'll draft a plan to make it work!
Schedule a free call to plan your experience and
discuss pricing, logistics, and customization.
We work (and play) with 100+ innovative companies like:
Teams love working with us
97% of people would recommend Artly Working to a friend or colleague (according to over 500 survey respondents)
"I felt happy and enlivened! I went on to do more creative things that day than I have in a week… Changed my view of how much fun you could have in a virtual environment."
- Brandon
LifeLabs Learning
Leadership Trainer
"It was the most fun I've had on zoom. Period. David and Ruffin were fantastic facilitators and the games were incredibly enjoyable and well suited for working from home."
- Kielan
Athos
Mechanical Engineer
"So much fun for the company to collaborate with colleagues and learn a bit about them. Also relevant skills gained in terms of how we work together, having meetings, present to clients, etc."
- Evan
Suzy
SVP, Strategic Partnerships
"Just wish i knew about you guys earlier, Was my first time ever being at such an event and was truly wonderful."
- Mark
Flexport
Senior Supply Chain Associate

"High energy, super well organized, no dragging or awkward parts."
- Christiana
Meta (Facebook)
Product Strategy & Marketing
"David was an amazing facilitator from start to end - he has a lot of positive energy and created a safe and comfortable atmosphere. I also loved that he did not forget about closing the loops back to how this can benefit us as a team in the workplace and always made sure to challenge us to think about how the improv exercises can actually help us as a team."
- Rosa
Pinterest
Ad Measurement Lead
"The workshop was a fun and enjoyable break from the normal day-to-day Zoom routine. We were able to have fun and laugh, while using different parts of our brains and personalities. The whole experience left us feeling even closer and connected as a team!"
- Jamie
Sayge
CEO & Co-Founder
"Really enjoyed this! Thanks for making us all laugh and feel comfortable with this activity, esp hard being on VC! "
- Andrea
Google
Head of Strategy, Human Truths
Artly Working is on a mission to help build stronger teams made up of happier people and higher performers. Our offerings use improv and theatre to strengthen your culture and people experience, build connections, and improve retention – all while having a great time!
All programs are available Virtually or In Person
The classic Artly Working experience built around your team's needs, goals, and values
learn more >
A customized, repeatable culture builder that helps new hires learn and act on your core values
learn more >
A hands-on, interactive training designed to make all your meetings more purposeful, effective, and fun
learn more >